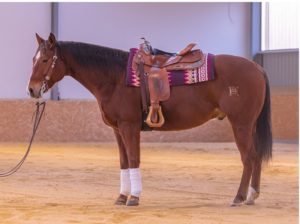 5 year-old quarter horse gelding with a great pedigree.
His father is the famous Great Sun Burst (NRHA Futurity Top 5, NRHA Open and Non Pro Champion) who was showing with the well-known Bernard Fonck.
He was broken by Miroslav Baniari so he knows all maneuvers.
Perfect for Non-Pro riders for reining or performance as well as for hobby riders.
He is completely reliable in cross-country riding, very human-centered and friendly horse.